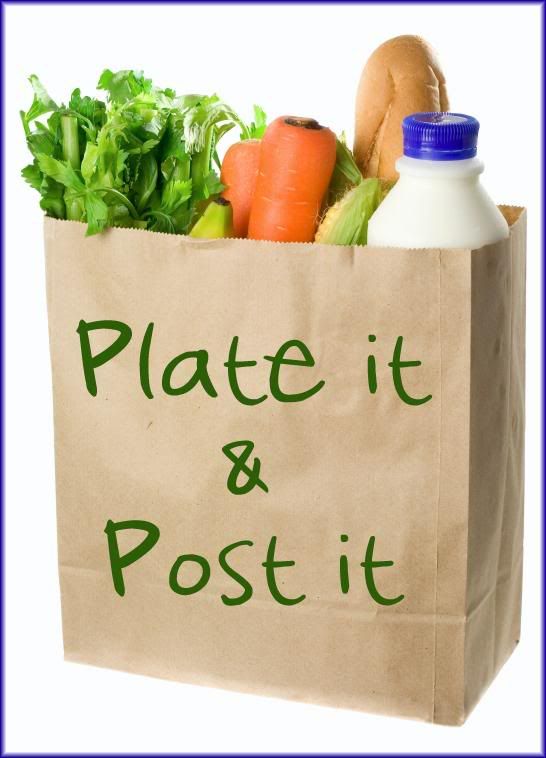 I
found out about Plate it and Post it from
Amy's
site and thought that I have the perfect recipe for it! This is a Weight Watcher's receipe that I absolutely love!
Spicy Indian-Style Chicken Kebabs (I don't think its very spicy at all)
Hands on prep: 20 minutes
Cook: 12 minutes
Serves: 4
3/4 cup plain fat free yogurt
1 1/2 tsp
2 garlic cloves, peeled and halved
1/2 teaspoon paprika
1/4 tsp cayenne
3 Tablespoons chopped cilantro
1 pound skinless boneless chicken breasts, cut into 24 cubes
1 yellow or orange bell pepper, seeded and cut into 24 squares
1 red bell pepper, seeded and cut into 24 squares
1 green pepper, seeded and cut into 24 squares
1/2 tsp salt
1. Combine the yogurt, coriander, garlic, paprika, cayenne, and 2 Tablespoons of the cilantro in zip close plastic bag; add the chicken. Squeeze out the air and seal the bag; refrigerate, turning the bag occasionally, 20-30 minutes or up to 1 day.
2. Remove the chicken from the bag and discard the marinade. Using 8 metal skewers, thread the chicken and bell peppers onto the skewers using 3 cubes of chicken and 9 squares of pepper for each skewer. Sprinkle evenly with the salt.
3. Spray the broiler rack with nonstick spray; preheat the broiler. Place the skewers on the rack and broil 5 inches from the heat, turning frequently, until the chicken is cooked through, about 12 minutes. Sprinkle the skewers with the remaining 1 Tablespoon cilantro.
2 skewers per serving
Calories: 169
Fat: 4 grams
Points: 4
I love this with couscous! Enjoy!